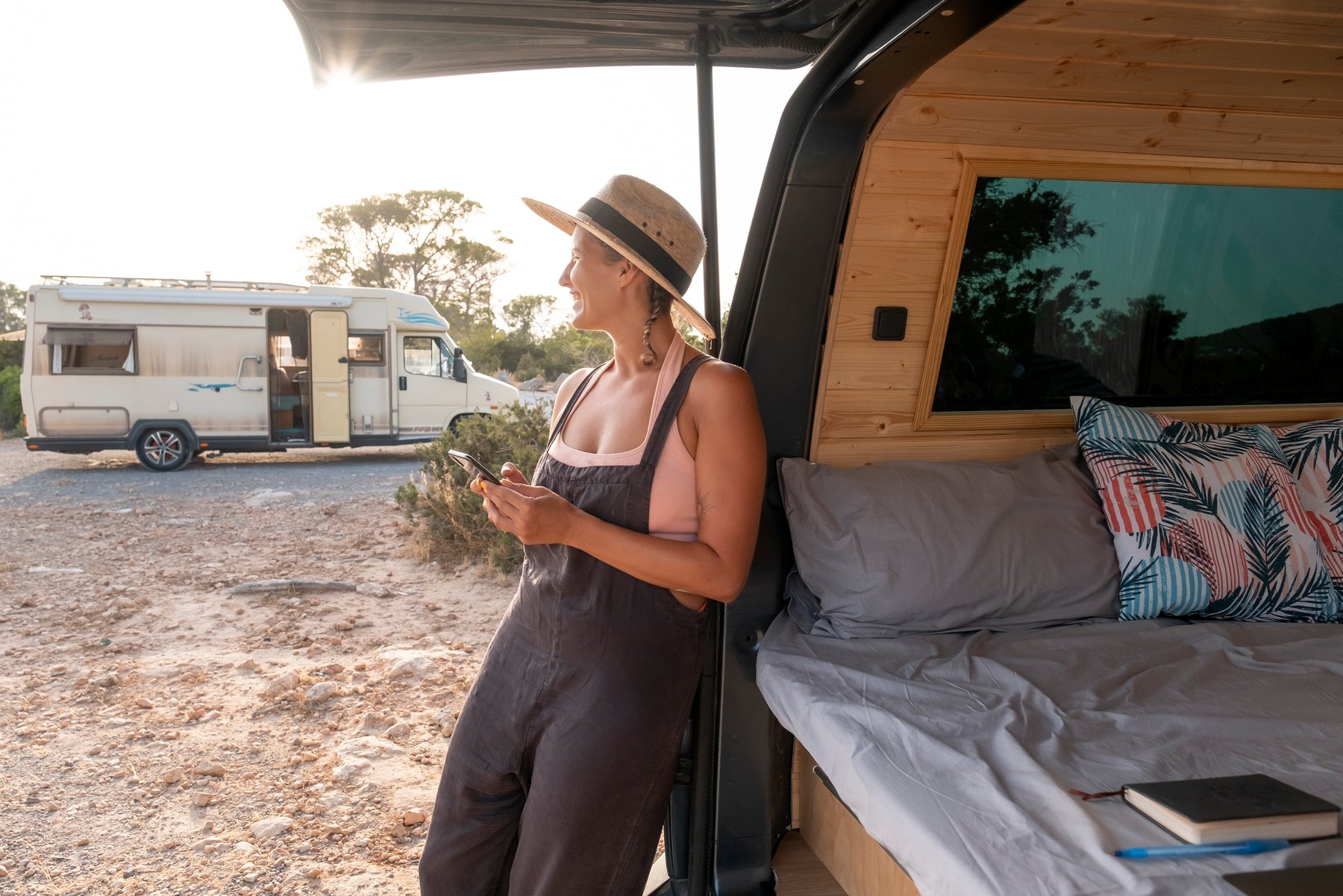 Caravan Accessories Worth Investing In
Are you an avid caravan enthusiast, always on the lookout for the best caravan accessories to enhance your outdoor adventures at the caravan park or in the wilderness? As outdoor camping retailers, we understand that the right caravan accessories can make all the difference when it comes to the comfort, convenience, and overall enjoyment of your trips.
Whether you're a caravan pro or new to the world of camping, there's always room for improvement when it comes to fitting your mobile home away from home, with the best caravan accessories at Aussie Traveller. Join us as we explore all the caravan accessory essentials that can turn your caravan into a mobile oasis, providing you with the freedom to explore with ease.
Invest in the Best Caravan Park accessories for your Caravan
Investing in the best caravan park accessories is essential for enhancing your outdoor lifestyle and making the most of your caravanning experience. Your caravan is more than just a means of travel; it's your gateway to adventure, relaxation, and quality family time.
What Is Classified As 'Caravan Accessories'?
Caravan accessories are a wide range of items that make your caravanning experience better. They can be divided into four groups:
Practical caravan essentials: Help you travel safely and smoothly, such as levelling systems, tow vehicle equipment, ventilation, and filtration systems like a drinking water hose or inline water filter.
Comfort and convenience: These caravan accessories make your caravan feel more like home, such as a portable toilet, storage bags, portable kitchens, and furniture.
Safety gear: Safety caravan RV camping gear protects your caravan, such as fire extinguishers, alarms and security locks.
Entertainment: These popular caravan accessories keep you and your family entertained, such as portable TV systems, outdoor speakers, camping cookware and stand up paddleboards.
Caravan accessories help you tailor your caravan to your specific needs and preferences, so you can have a comfortable, safe, and enjoyable journey.
What Caravan Accessories Do I Need To Buy Before A Big Caravan Trip?
We're so glad you asked! Invest in popular caravan accessories that range from anything between:
caravan reversing cameras
fire extinguisher or fire blanket
portable solar panel
onboard washing machine
The most popular caravan accessories tend to be caravan gadgets that simplify your overall caravan camping experience and this can be different for everybody.
What is a "Must Have" Caravan Accessory?
We understand that investing in the right caravan accessories can seriously enhance your travel experience. But what exactly constitutes a "must-have" caravan accessory? Well, from our perspective, a "must-have" caravan accessory is one that combines practicality, convenience, and enjoyment. It's an accessory that simplifies your camping life, offers versatility and adds a touch of comfort to your adventures!
Here are our favourites:
Anti-Flap Kits
Anti-Flap Kits are a must have for every RV or home on the road and are specially designed to suit all types of roll-out and cassette awnings. It will protect and keep your awning in perfect condition by securing the fabric which prevents wind flap. 
At Aussie Traveller, we have the original and the best Anti-Flap Kit, featuring the smart sail track design, allowing you to easily install walls, annexes or fly awnings, giving you more time to enjoy your holiday.
Curved Roof Rafters
Curved Roof Rafters are simple caravan accessories that prevent your caravan awning from sagging as well as flapping in the wind. These handy yet beneficial accessories go hand in hand with the Aussie Traveller Anti-Flap Kit to make sure you're getting the most out of your caravan or RV awning.
Portable Solar Panels
Invest in Aussie Traveller solar panels that are portable, reliable, and easy to use, anywhere you are. Made with the highest quality silicon and high-efficiency mono-crystalline technology, they capture the most sunlight possible from the Aussie sun.
Our folding solar panels are perfect for portable charging at the campsite. You can adjust the angle of the panels to capture the most sunlight throughout the day. With Aussie Traveller solar panels, you'll have power on the go, anywhere, anytime. Shop the rest of our range here.
Caravan Awning
Caravan awnings are add-on structures that attach to the side of a caravan or motorhome to create more living space.
At Aussie Traveller we have a wide range of styles that provide shelter, shade, and protection from the elements, creating a comfortable outdoor area for campers. Caravan awnings come in different styles, sizes, and materials to suit different camping needs and preferences.
Portable Toilet
Need a toilet? Maybe you're planning your next big adventure into the heart of the Aussie bush. Camping is made easier with a portable toilet. From our folding toilet to a lightweight cassette toilet perfect for the whole family to use. This makes any caravan trip stress-free and enjoyable. Check out our range here.
Camp Chairs and Furniture
You can't go on a camping trip or enjoy your time at the caravan park without caravan essentials like camp chairs. Treat your caravan like a second home and invest in our outdoor range of inflatable caravan camping chairs and couches, which are an essential for camping relaxation. Extremely comfortable, these single-person inflatable armchairs or three-person sofas are perfect for lounging at the campsite.
They have removable covers for easy washing and LED light strips around the outer arm edges—making them not just caravan essentials but also a stylish addition to your outdoor setup. Setting up and packing down is quick and easy with the two-way valves on the back and base of the furniture, ensuring that you have more time to enjoy your caravan adventures.
Our Washing Machine and Washing Line
The Portable Turbine Washing Machine is a small, lightweight camping washing machine that can quickly clean small loads of laundry on the go, or perhaps our Top Load Washing Machine is more your style.
Accompanied by our Awning Clothesline, which makes hanging the washing out to dry on your washing line much simpler. Suitable for any size Aussie Traveller roll-out awnings, Dometic awnings and CareFree awnings, they're easy to install, simply attach it to the outside of your awning arms when extended and you're good to go.
Caravan Water Pump
Another essential caravan component, our caravan water pump range provides on-demand, safe drinking water to your RV, camper trailer, or mobile home.
It's specifically designed for caravans and other mobile vehicles, and it's built to last with internal bypass, thermal protection, and no rapid cycling. Definitely a caravan accessory you need.
Smart Projector & Screen
Put your feet up or lay down on the caravan floor because we have your nightly entertainment sorted for the summer nights at the caravan parks. Invest in one of the most popular caravan accessories, the Xtend Outdoors Smart Projector and Projector Screen.
This small, portable smart projector adds a bit of luxury to your camping trip and is perfect to bring for movie nights. It's easy to use and wireless, simply connect from your phone or laptop wirelessly via WiFi, Bluetooth or AirPlay, and start streaming your favourite movies and shows.
Standard Caravan Mattresses
Our caravan mattress is one of the best in the business. The TravelCloud standard caravan mattress is a luxurious mattress that provides quality support and comfort for a perfect night's sleep in your caravan or RV. No more makeshift bedding with beach towels, invest in our standard caravan mattresses for a great night's sleep.
Shop Aussie Traveller Camping Trip Caravan Accessories
Whether you want to camp off-grid along the coastline of WA or you want to plant yourself at a couple of caravan parks throughout the summer, you need the most popular caravan accessories to make your caravan trip seamless and enjoyable.
Whether it's in a caravan, RV, camping in a swag or pitching a tent, the best caravan accessories are at Aussie Traveller. Browse our entire caravan accessory range today.