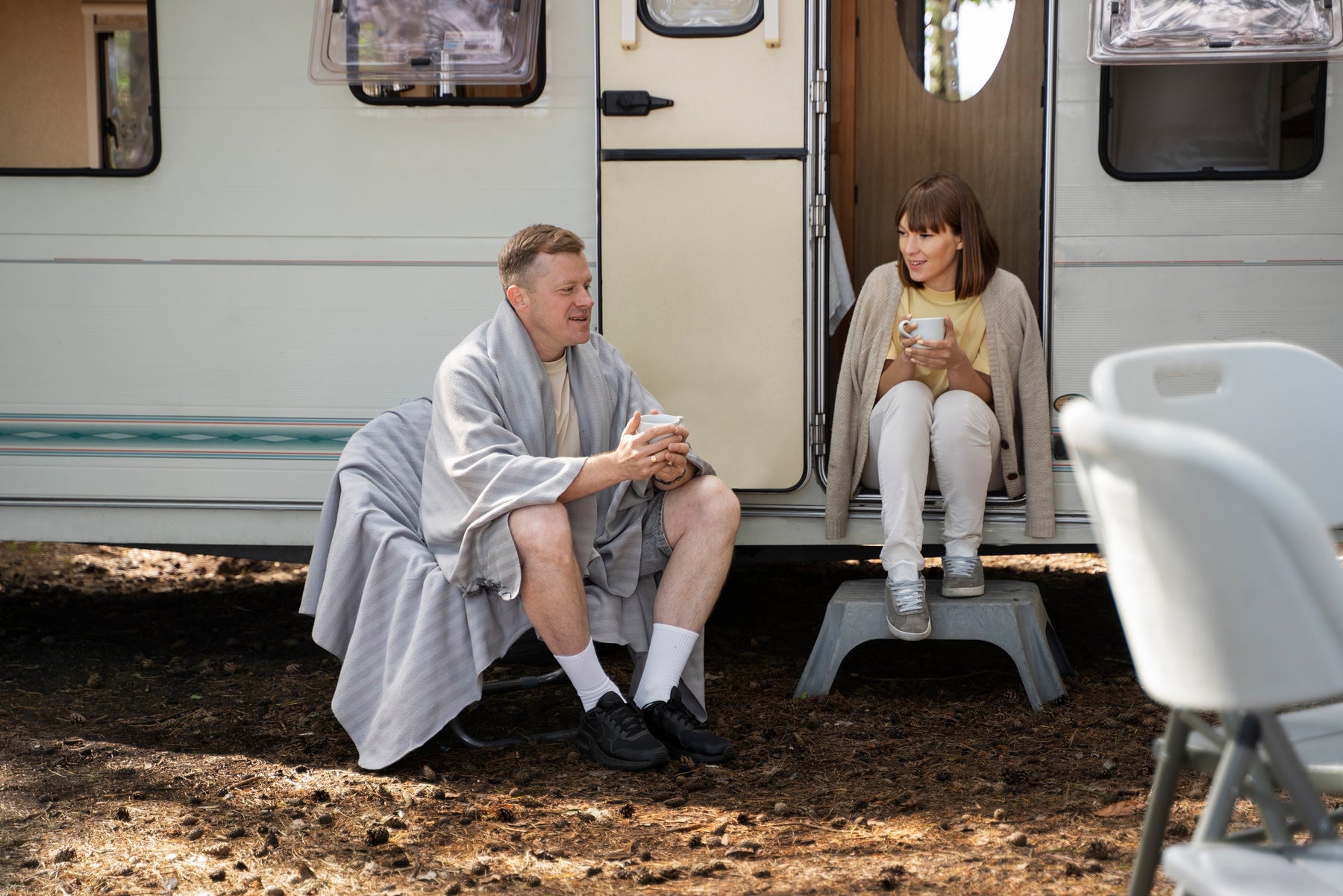 Caravan Parks Around Australia
Whether you're seeking a luxurious caravan park with top-tier facilities, planning a camping adventure in the heart of lush tropical gardens, or searching for a secluded spot in the wilderness, Australia offers a caravanner's paradise. With an incredible range of terrains, climates, and natural beauty, this country has it all.
From coastal luxury accommodation to inland camping sites, there's a place to park and rest for every taste, making your Australian caravan adventure an unforgettable experience. Whether you're a seasoned caravanner or new to the caravaning world, at Aussie Traveller we're here to help you make the most of your next Australian caravan park experience.
15 of the Best Caravan Sites in Australia
Whether you're after a caravan park that's pet friendly or one that's a stone's throw away from majestic ocean views, at Aussie Traveller we're here to delve right into the many caravan sites and parks in Australia this beautiful country has to offer.
Queensland Caravan Parks
From budget-friendly sites to luxury accommodation, Queensland has never looked better. You'll want to check these ones out.
Woodgate Caravan Site
Surrounded by lush native wilderness this location is the perfect place to soak in the ocean views. With boat ramp access, set off into the water with your boat, jet ski, kayak or canoe for a little water fun. Spend your days swimming or fishing in the The Burrum River or the Woodgate Beach around the corner. With basic facilities, this powered site is a go-to camping site for friends and family.
BIG4 Rainbow Beach Holiday Park
Nestled just a short distance from the pristine crystal-clear waters near the water's edge, you have the option to select either their powered sites or unpowered sites for setting up your safari tents or parking your caravan, making it a luxurious accommodation choice—this holiday park offers a comprehensive range of choices. This camping site is pet-friendly, making it an excellent choice for families travelling with pets. With facilities like a camping kitchen, boat ramp, fishing cleaning facilities, BBQ access, gas and a games room people travelling with family and friends are bound to love it.
NRMA Airlie Beach Holiday Park
With a resort-style swimming pool, a camping kitchen and general BBQ access, this holiday park is perfect for a family retreat. Choose from their various camping grounds, from powered sites to unpowered sites, and cabins and villas—basic facilities include laundry, cafe, bike trails and of course, the family's favourite pool. You don't want to miss out on this Airlie Beach luxury accommodation camping site.
New South Wales Caravan Parks
Visit and explore these stunning views and wildlife with these three caravan parks located in New South Wales, Australia. These are definitely worth your consideration for your next caravan adventure!
Flynns Beach Caravan Park
Relax and unwind with these powered sites within the Greater Port Macquarie area. Park your campervan or caravan on the grass lawns and enjoy the local wildlife, head down to Flynns Beach for some swimming and fishing or lay down and star gaze at night. A perfect location, being close to local shops, the main town and the beach. Or check out the local activities nearby, like mini golf and swimming pools. A camping site for the whole family to enjoy.
Forster Caravan Park
Whether you prefer a cabin or caravan-powered site, this caravan park has great facilities to enjoy. With boat ramp access, camp kitchen and BBQ area, it has everything you could possibly need. Explore the Wallamba River, visit the National Motorcycle Museum or look out for the whales and dolphins with the kids.
Stoney Aqua and Action Park
Your kids are going to love this one (and so might you), adventure and water splash park combined all in one, it's the perfect place for a fun family trip. With heaps of basic facilities available like BBQ areas and a camp kitchen, you're going to want to visit this site. Stoney Park offers a generous selection of powered grass sites suitable for Caravans, Motorhomes, and tents!
Victoria Caravan Parks
Discover breathtaking vistas and wildlife by paying a visit to these three caravan parks situated in Victoria, Australia. These destinations are certainly worth your attention as you plan your upcoming caravan adventure!
BIG4 Wye River Caravan Park
Nestled along the Great Ocean Road, this location has everything. An ideal spot to set up your tent or park your caravan. With a variety of powered and unpowered camping sites, as well as dedicated caravan sites, this camping facility offers more than 130 well-maintained grassed sites. Surrounded by nature, take the time to enjoy the native wildlife and relax under the stars.
WhiteCliffs Foreshore Caravan Site
Situated right at the water's edge, this location is conveniently close to both the beach and the local shopping strip. Surrounded by numerous local parks and perfect for outdoor movies, this Mornington Peninsula caravan site is an excellent choice for a family or friend holiday retreat.
Yea Riverside Caravan Park
From selected cabins to parking your own caravan, this accommodation camping site is great for any Aussie traveller. Whether you're there in the winter to enjoy the slopes of Mt Bulla or you're enjoying the Australian summer and cooling off in the camping site's swimming pool or exploring the Yea River, you'll love this holiday park.
South Australia Caravan Parks
Here are three caravan parks nestled in South Australia. These captivating destinations should undeniably top your list as you prepare for your upcoming caravan adventure!
Goolwa Discovery Parks
From full-functioning caravan deluxe houses to powered soft pad sites, this caravan park has something for everybody. With a huge swimming pool, major sports facilities, laundry facilities, a waterpark and wifi, the whole family is bound to love this site.
Victor Harbour Holiday and Cabin Park
This 22-acre park has it all! From cabins to caravan parks to station your home away from home. With heaps of fun activities made for the kids in mind, you can enjoy what their parks have to offer. Take day trips to the main town or simply unwind with their outdoor movie nights under the stars. There's something for everyone.
Levi Adelaide Holiday Park
Offering a wide range of options, from fully equipped deluxe accommodation cabins to powered sites, this caravan park caters to the diverse needs of every visitor. With a generously sized swimming pool, extensive sports facilities, laundry amenities, an exciting swimming pool, and Wi-Fi access, the entire family is sure to have an enjoyable experience at this campground.
Western Australia Caravan Parks
Whether you want to explore the Northern Territory or be nestled by a working pastoral station, these caravan parks in Western Australia are definitely worth a thought.
Kalbarri Red Bluff Tourist Park
Kalbarri's Red Bluff Tourist Park sweeps the shorelines of Western Australia's rugged coastline and the breathtaking Indian Ocean. Nestled amidst the Kalbarri National Park, it's only a short stroll away from the captivating Red Bluff beach. With basic facilities and plenty of nature parks to explore, you won't get bored here. With stunning views, there's no better way to unwind.
Mount Barker Caravan Park & Cabin Accommodation
With plenty of wildlife in abundance, this caravan park is the perfect place to unwind and relax among the trees and nature. Take a day trip into town or explore the nearby wine regions.
Tasmania Caravan Park
Ocean view cabins or tucked away in the parks, there are plenty of hidden gems to caravan throughout Tasmania.
Bridport Seaside Caravan Park
Overlooking the shorelines, this caravan site is perfect to unwind with the sounds of the waves crashing in the distance. With many swimming pools and walking tracks, there's fun for the whole family to enjoy.
Start Your Caravan Journey With Aussie Traveller
Whether you've been camping since you were a child or you're about to embark on your first solo adventure, check out our Aussie Traveller camping range to get you sorted. From caravan awnings to caravan accessories, make sure you shop online before your next road trip. For more information contact us through our website or call our Australia-wide number at 1300 663 868. Happy camping!