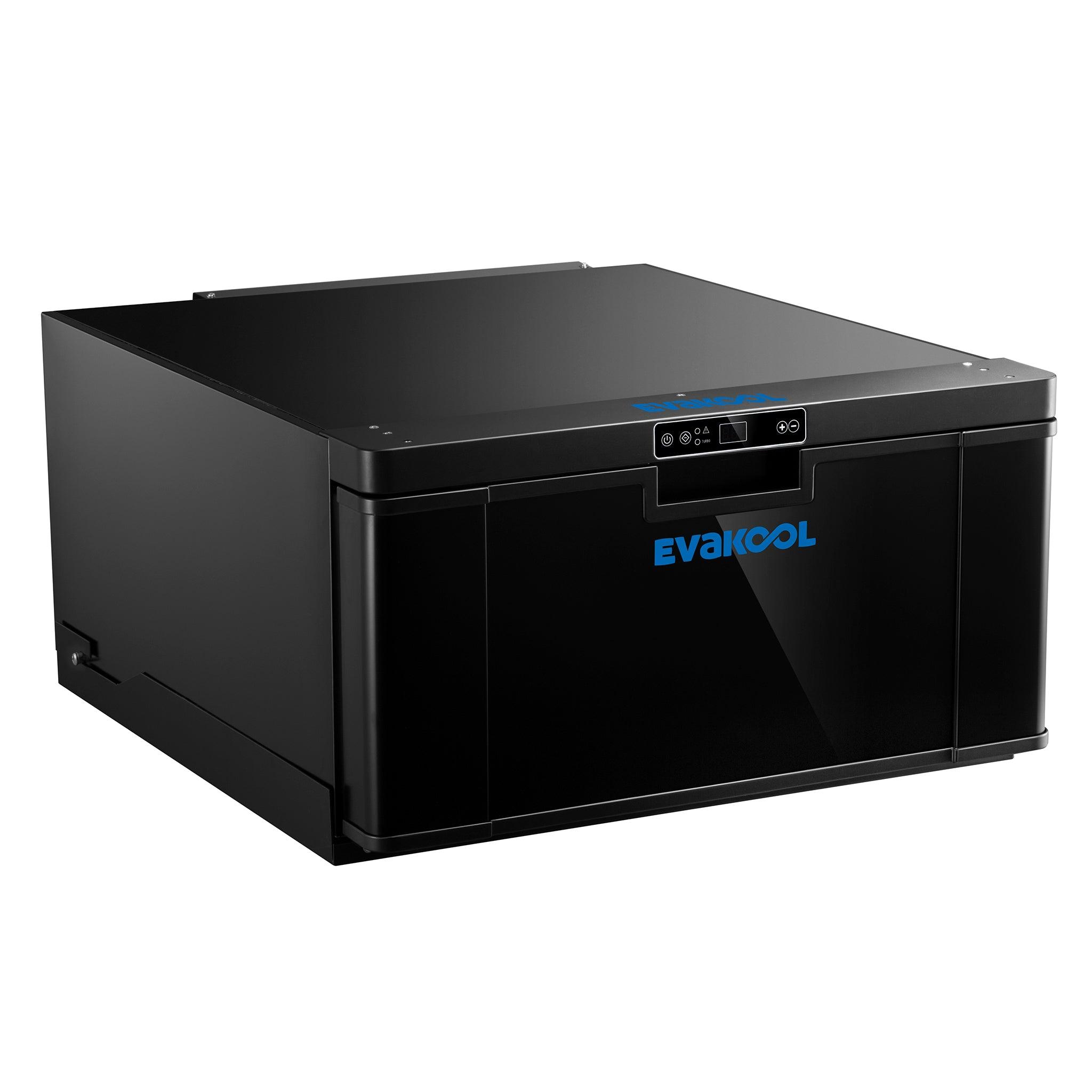 Platinum Drawer Fridge/Freezer - 40L
Whether you're camping, taking a road trip or spending the day on the beach we all want to be able to keep our food fresh and drinks ice cold. With an EvaKool Drawer Fridge/Freezer in the back of your 4x4 or in your Caravan, you'll have a compact and efficient fridge to do the job.
Easy to install, with the included heavy duty floor plate bracket to secure the drawer fridge to a flat surface - No need to drill into the fridge or use any additional tie-downs. The unique innovative drawer system alleviates the requirement for a fridge slide. Just store all of your products inside and slide out the drawer when you need them.
Features

Can be set to fridge or freezer mode
40L single drawer
48 can capacity per drawer
Durable metal cabinet
Acrylic compartment lids
Easy to read LED display / control panel
Temperature range from -16°C to 10°C
Secop PBC 2.5 Compressor
Interior LED Light

Removeable drawer tub for easy cleaning
Fully insulated cabinet
No fridge slide required


Includes a heavy duty floor plate style bracket

*This item does not come with any leads/cables. A 12V Anderson plug is fitted to the back of the appliance. It is recommended to always fuse your power source.
Specifications

Dimensions (L x W x H): 850 x 530 x 460mm
Weight: 28kg
Capacity: 40L
Insulation Thickness: 40mm
Cooling Zones: Single Zone
2 Year Warranty - Cabinet / Electronics
5 Year Warranty - Compressor

Power Consumption:
The gas charge is 45 grams. The average power consumption of the DC40-DRW-S at 32ºC (measured over a 24 hour period) is as below:


Set on 2ºC - 1.2 A/Hr
Set on -16ºC - 2.4 A/Hr

*Please note that power usage is dependent on various factors that include, but are not limited to: Ambient Temperature, Required Fridge Temperature, Temperature of Fridge Contents, Compressor Speed, Ventilation of Fridge Motor Compartment.