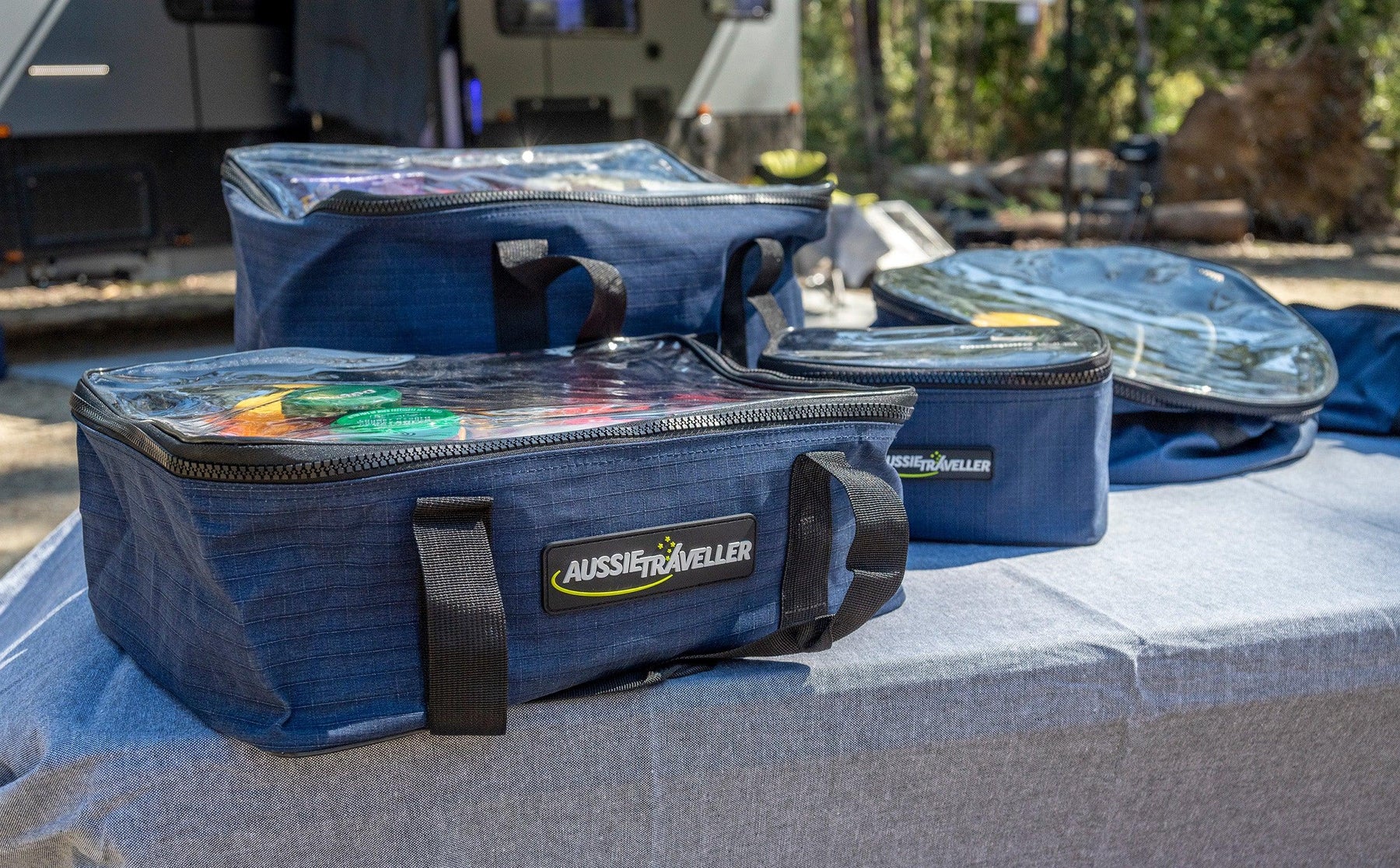 Stay organised on the road with our Canvas Storage Bags
Keeping organised at your campsite has never been easier with our range of Canvas Storage Bags & Accessories. Made from heavy duty Ripstop polycotton canvas, these durable bags are in for the long haul!
Available in a range of sizes and styles for any need, whether it be organising your car console or taking your swag on your next on or off-road adventure, Aussie Traveller has all storage solutions covered. All bags are also fitted with heavy duty zips to ensure your belongings stay safe and secure.
What can these Storage Bags be used for?
The range features the versatile Clear Top Canvas Bags, perfect for keeping your travel or food products organised and secure, whilst giving you visibility of the contents with the clear PVC lid. The Rooftop Canvas Bags are a great space saver for your 4WD as they can be placed onto roof racks to store your mattress, tent, or swag. The range also features a variety of multipurpose storage solutions including the Luggage Bag, Duffle Bag, Pole Bag, Electrical Bag, Mesh Hose Bag, Canvas Pot Bag, Toilet Bag and Chainsaw Bag.
What are the other Canvas Accessories in the range?
We offer a great selection of Canvas Accessories for your Caravan or RV. The popular Awning Organiser is the ultimate accessory for your awning to keep all your little belongings organised for your outdoor living set up. No time is wasted as it sets up in seconds by sliding into your awning or Anti-Flap Kit sail track.
The Awning Arm Protector is perfectly designed to help protect your awning arms from dents, chips and scuff marks whilst travelling. Made from heavy duty Ripstop polycotton canvas with PVC lining, it easily attaches to any awning arm with the Velcro fastening straps. The Canvas Ground Sheet is one to always have handy on your travels – great for laying down at your campsite or for extra floor matting so you can remain dirt free, place it underneath your swag for additional moisture protection or even under the vehicle while completing those repairs. The ground sheet easily rolls up and is held in place with the built in Velcro straps.
We have what you need to keep your 4WD, RV or caravan organised and your gear protected for life's adventures.